Welcome to Holy Cross Anglican Church Vancouver. Founded by Japanese Canadians, welcoming everyone.
聖十字バンクーバー聖公会教会へようこそ。日系カナダ人によって設立され、すべての人々を歓迎しています。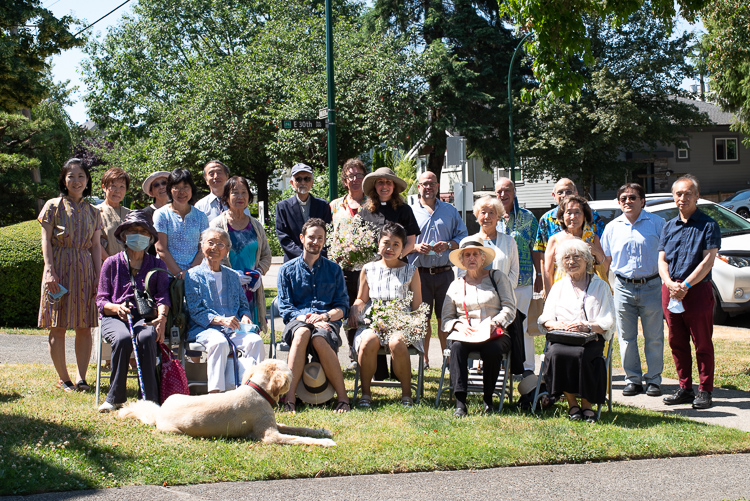 We are devoted to our relationship with God, receiving the Eucharist every Sunday and spreading the gospel of Jesus Christ to newcomers.
As our Japanese Canadian heritage is at the heart of who we are, we understand the significance of humanitarian rights in Canada and how racism has negatively impacted the health and healing of churches. We know the importance of forgiveness, keeping an open mind, sharing our minds and experiences which gives us hope for the future.
We are the only parish in Canada actively participating in a bilingual Sunday service in both English and Japanese. The sermon is preached in English and parishioners are encouraged to sing the hymns in English or Japanese.
We cherish worshiping together. After gathering around the altar for the Eucharist, we continue our fellowship at the meal table and welcome everyone. We have a strong commitment to hospitality and always having an abundance of food to share after Sunday service and at bible studies.
We value learning from others, encouraging communication between the clergy, wardens and parishioners. Safety policies are important to us as volunteers are required to complete a volunteer records check, sexual misconduct training and anti-racism training. We have congregational members and generations of their families with a strong calling to God continuing to support Holy Cross. The Japanese Canadian history of Holy Cross is an important part of our identity, however you will find people from all walks of life at Holy Cross.
We acknowledge with thanksgiving that we live, work and worship on the traditional, unceded ancestral territories of the Musqueam, Squamish and Tseil-Waututh Nations.
We are part of the Diocese of New Westminster, and the Anglican Church of Canada
2,113 total views, 2 views today